Family News Updates :
Congratulations Chris Rasmussen
We have a True Gentleman in the family!
So proud of Christopher!
His whole school nominates then votes on ten awards. Christopher was nominated for Good Samaritan and True Gentleman.
(He was also nominated last year, his first year at Southwest Christian. Hard to believe he'll graduate in a year and a half.)
He's at the top left in the family photo.
He is the grandson of Diana Magrann, wife of John Magrann.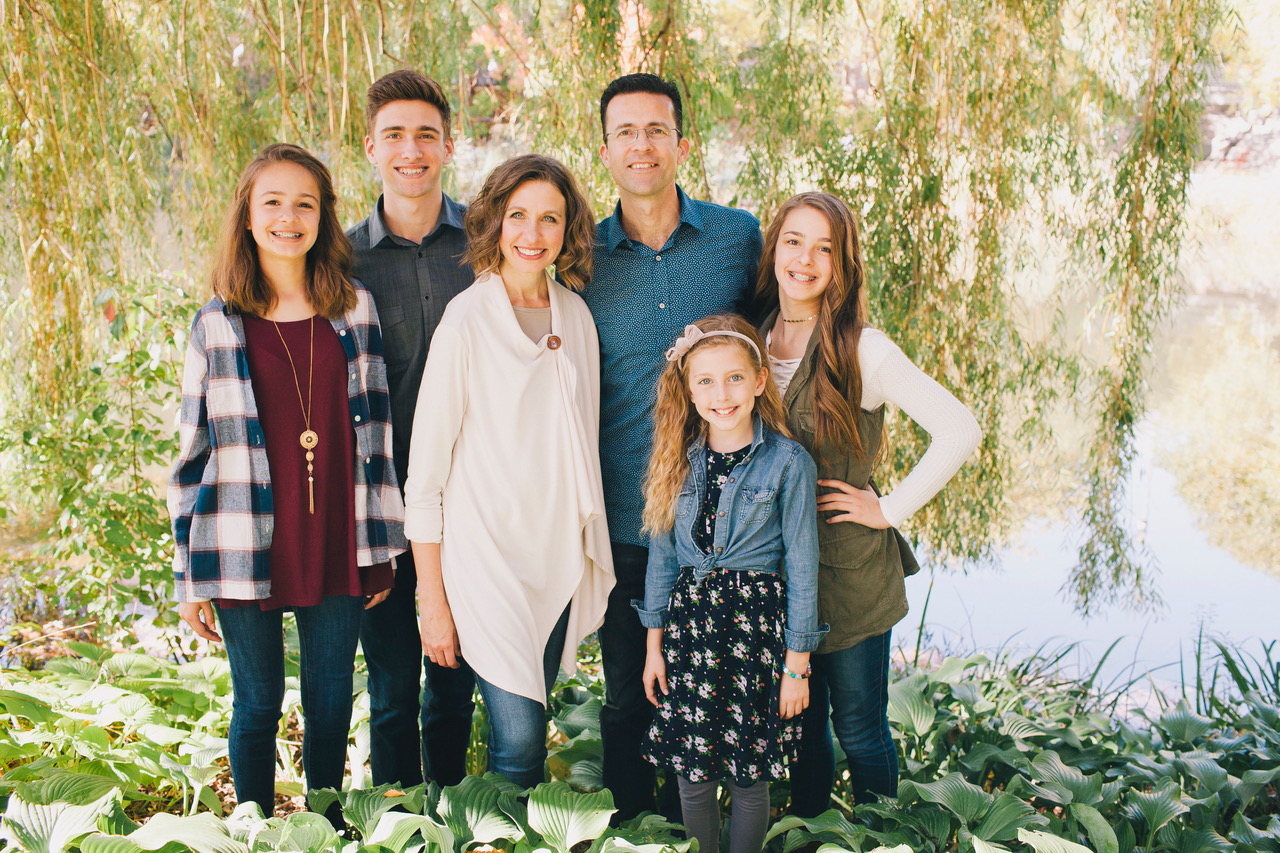 Congratulations Molly and Kevin
Molly Magrann and Kevin Forrest were married
Sept 2, 2017 in Laguna Beach, CA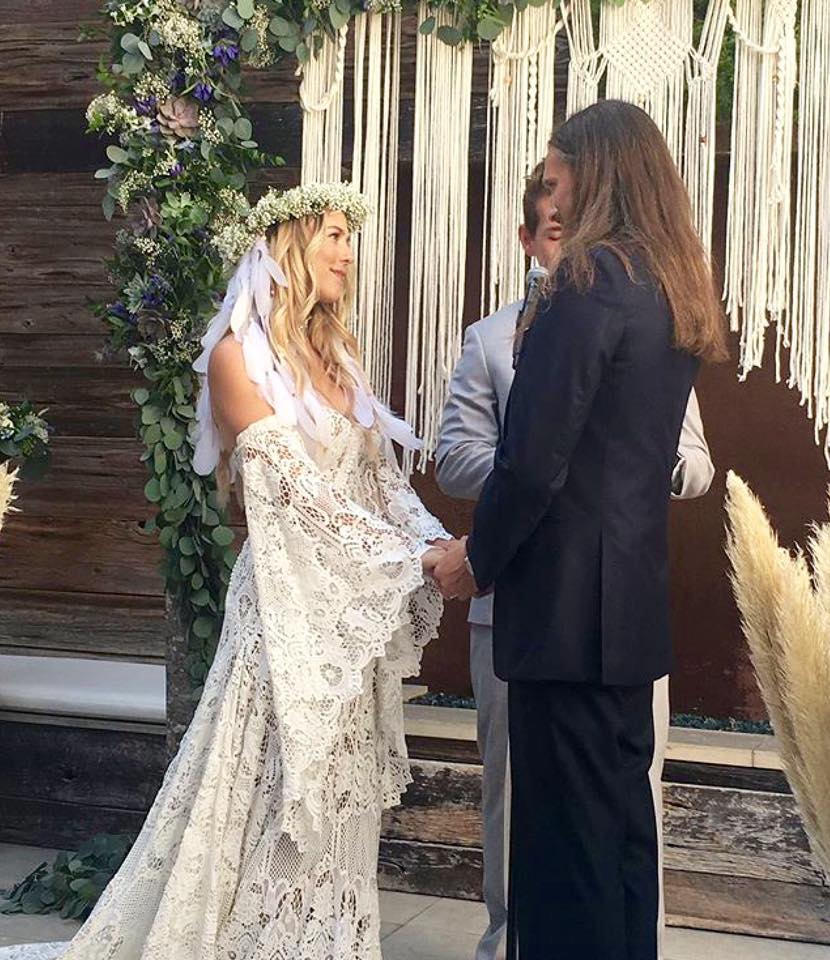 Congratulations Meghan Magrann!
We have a new family member!
Meghan had her first baby August 28, 2017.
She weighs 8 lbs.
Welcome, Margarita MaryJane Magrann!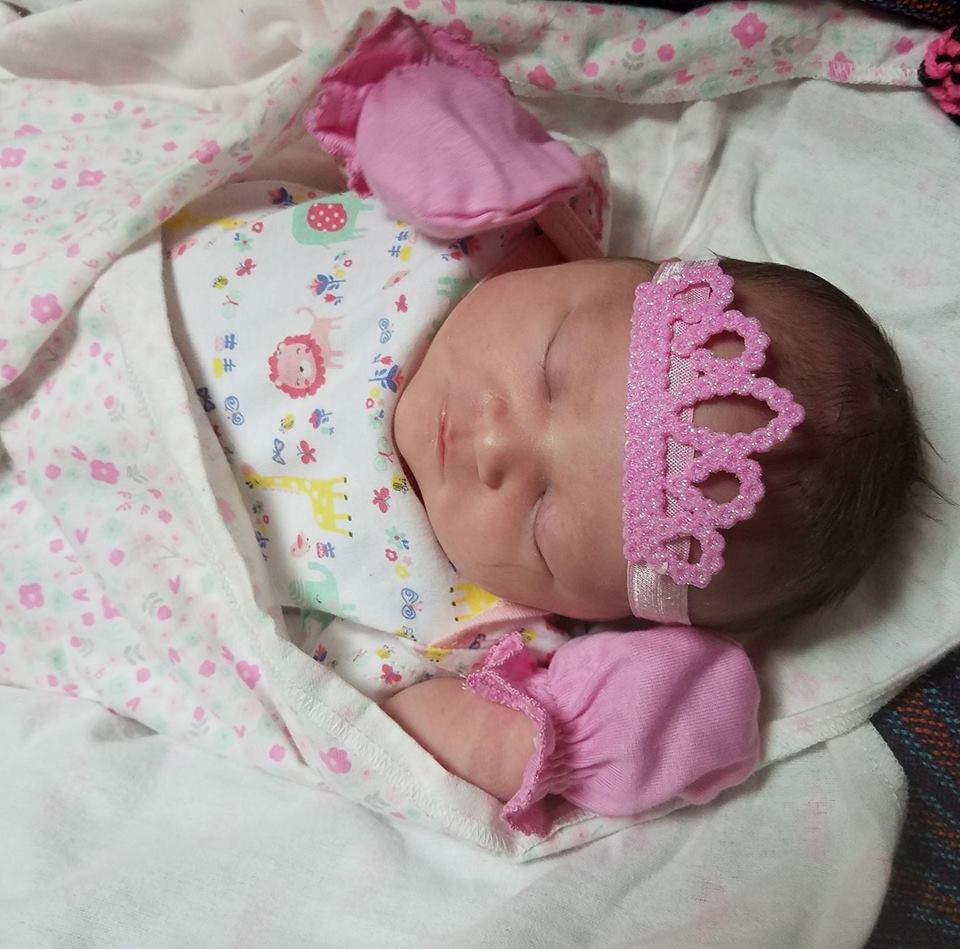 We will miss you, Barbara Anne McQuire
(nee Magrann).
Barb got the bad news a couple months back that her cancer had returned, limited options. She and her husband Larry made it out California for a last visit last month, and on return to NY things went downhill very quickly. She was admitted to hospital just about 10 days ago. The cancer went to her brain, so it was just onto hospice care; she passed very quickly and painlessly. We are grateful for that, and we are glad that she made one last visit to say farewell.....
Barbara is the daughter of Dr. John Magrann and his first wife, Barbara Lonergan.
Congratulations Molly Magrann and Kevin Forrest!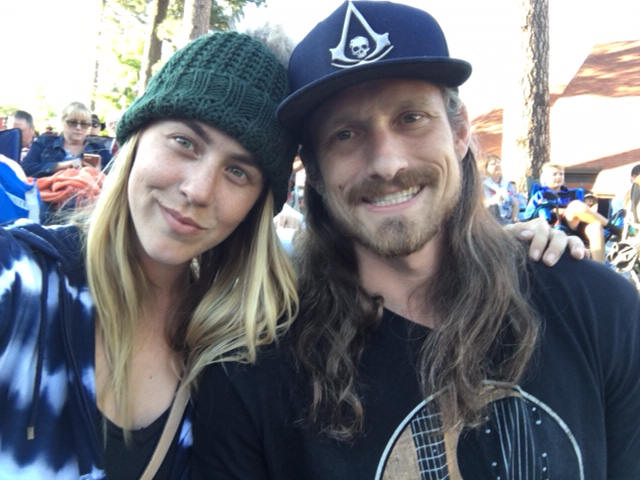 Molly and Kevin have been dating for 7 years.
Wedding plans are for September 2 in Laguna Beach, CA.
Molly is a Family and Marriage Therapist.
Kevin will graduate as a Doctor of Chiropractic Medicine this December.
They currently live in Aliso Viejo, CA, but have plans to move to his home in Lake Arrowhead after graduation. They hope to open a Wellness Center where both will have their practice. They both enjoy surface at the beach and water skiing in Lake Arrowhead.
Congratulations Connor Reed!
Great news for Jim and Tommie Magrann's grandson!
Connor Reed celebrates with his Concordia teammates after winning a National Championship in lacrosse.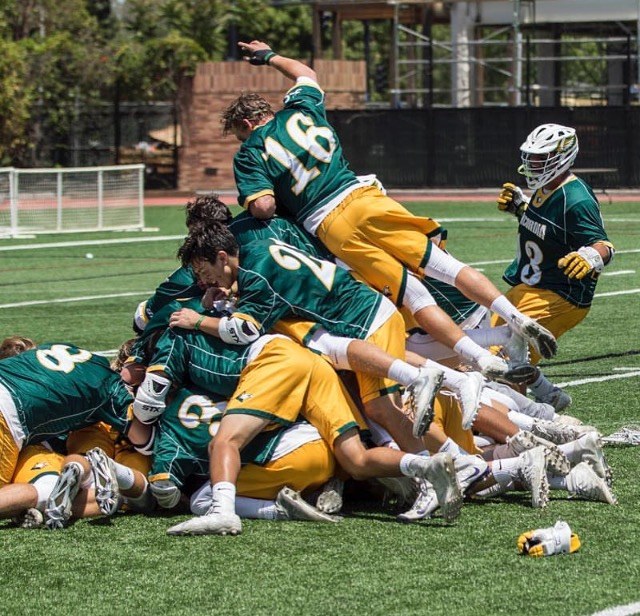 Connor Reed, who plays lacrosse for Concordia University (#16 on top) celebrates after winning a National Championship. Concordia was ranked #2 in the Country. Connor was named to the All-Academic team and All-League.
Congratulations Ethan Reed!
Great news for Jim and Tommie Magrann's grandson! Ethan Reed, a pitcher, outfielder for his high school baseball team, the Aliso Niguel Wolverines has verbally consented to a scholarship offer to the University of Southern California for the class of 2018. He had received numerous offers but the thrill of attending USC won him over. Ethan also plays basketball for Aliso Niguel and last week he was selected Wolverine of the year for his team.
That's a slam dunk homerun!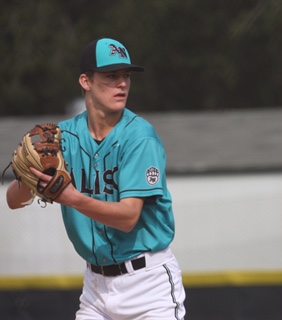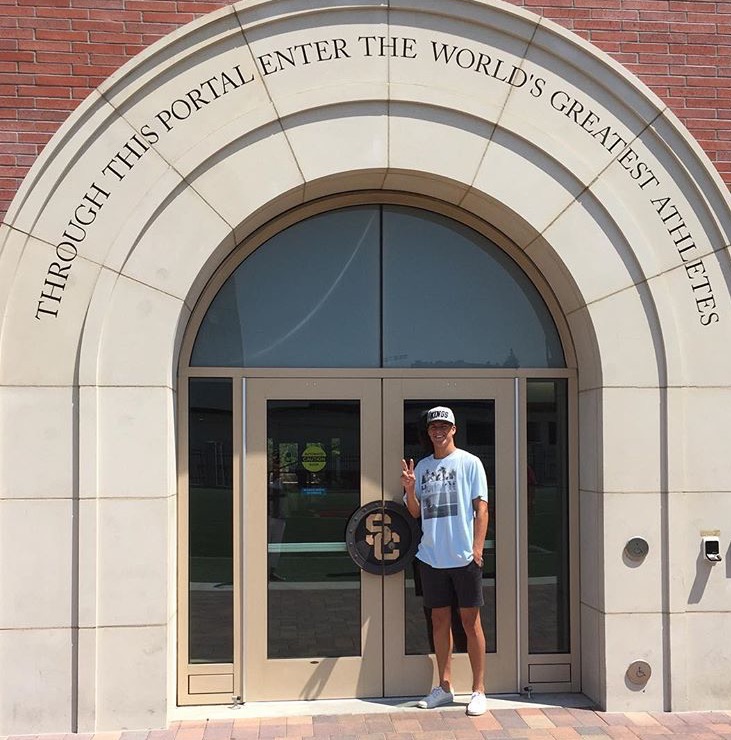 Congratulations Tommy + Andria Jones!
Tommy and Andria Jones welcomed their son, Finley Peter Jones, into the world on January 11th, 2017. He weighed 7 lbs 1 oz and was 20 inches long. Mom and baby are both doing well, and everyone is really excited about the growing family.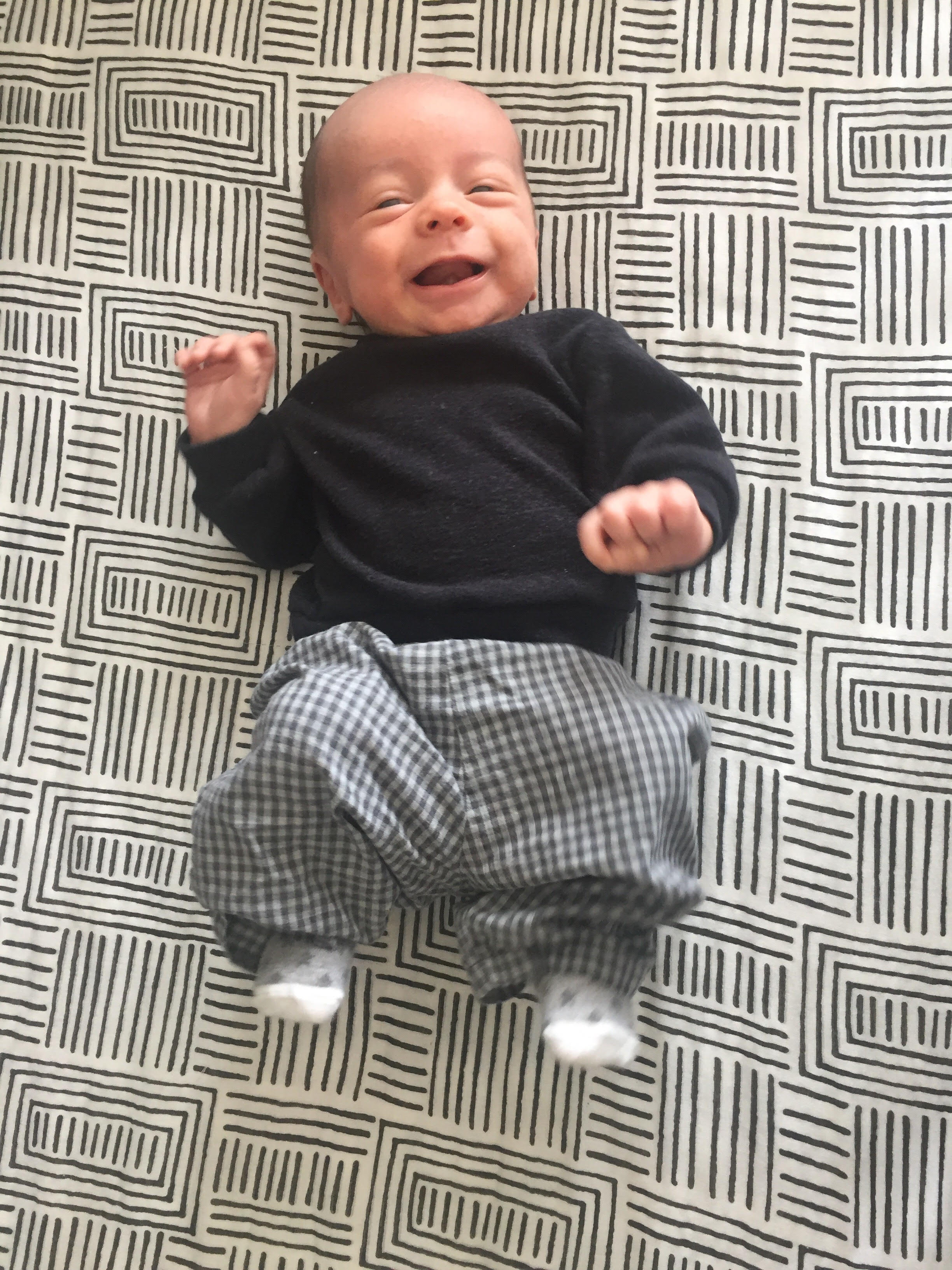 Judy Pruett (1942-2016)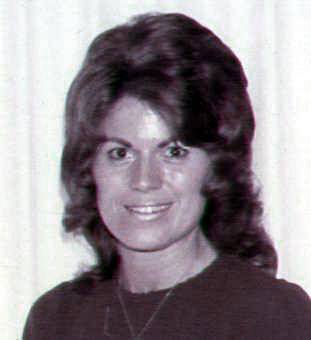 On 11/21/16 Judy passed away from a heart attack. She had been under the care of a doctor after spend a week in the hospital and everything seemed good.
Service is scheduled for
Friday 12/2/16, 11:30
. It will be held at Coast Hills Church, 5 Pursuit, Aliso Viejo, Ca 92656

Judy James Pruett was born to Jim and Marge James on August 12, 1942 in Compton, Ca.

Judy graduated from Compton H.S. in 1960 and later attended Compton Junior College. After college Judy began working for Dr. John Magrann and Dr. Chris Johnson. While working for Dr. Magrann she met her first husband
Jim Magrann and married on
August 25
. 1964.
Judy and Jim had three children; Christine, Kimberly and Mark and were married until their divorce in 1985.
Judy married Ace Pruett and was happily married until her passing on November 21, 2016. Judy is survived by her sister Janice Thompson,
her husband Ace, two children ( Kim and Mark ) and 8 grandchildren: Ashley, Brooke, Connor, Emma, Ethan, Gunnar, Lolla and Kai. She also had two stepsons, Mike and Jeff Pruett.

Judy was the definition of busy and productive and she loved her children and grandchildren. She was always available in helping Mark's baseball team with snacks, meetings and was a working force when Christine and Kim played softball, taking over full duties with the snack trailer. She did all the ordering and stocked the trailer herself, spending as much as 20 hours on the weekends.

Judy was a loving mother and grandmother.
Goodbye Nana, you will be missed!
Congratulations Hunter Wood!
Hunter is now training Level 5 in the Junior Olympics! Click the video below!
Congratulations Peg Jones!
Peg finally retired from working full time. She set a new record for the Magrann's, which was previously held by her father, who retired at age 90. Peg is 95 years old. What will she do with her time now? She might volunteer at a local library or Senior Citizen Center!
Congratulations Sandy Corder!
Sandy received tonight the City Manager's Annual Agassiz Award for Teamwork in Customer Service. Agassiz is one of the highest peaks in the Flagstaff mountain range.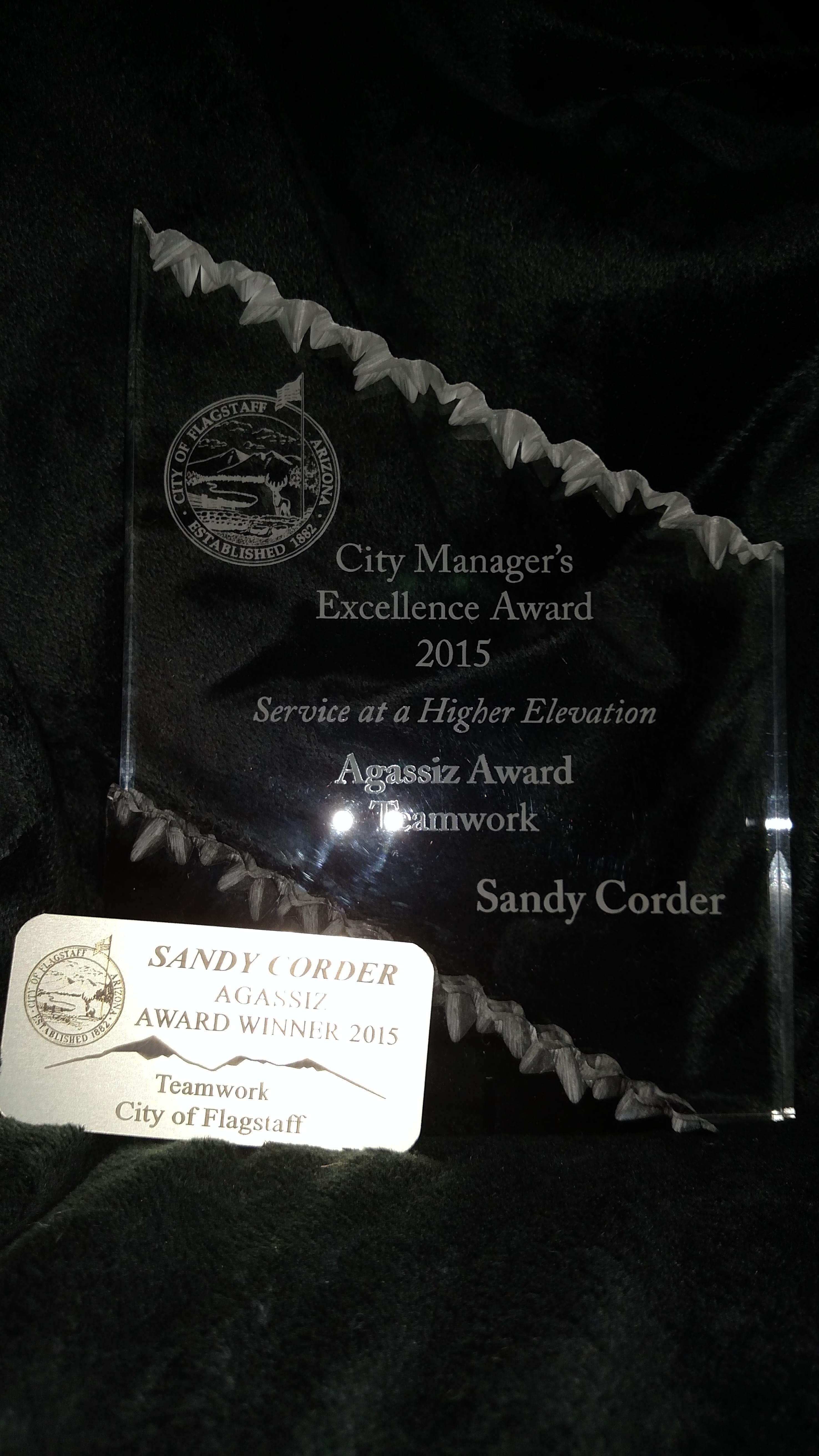 Congratulations John Moran!
John Moran, son of Trish Moran (nee Magrann) married Melody on 10/17/15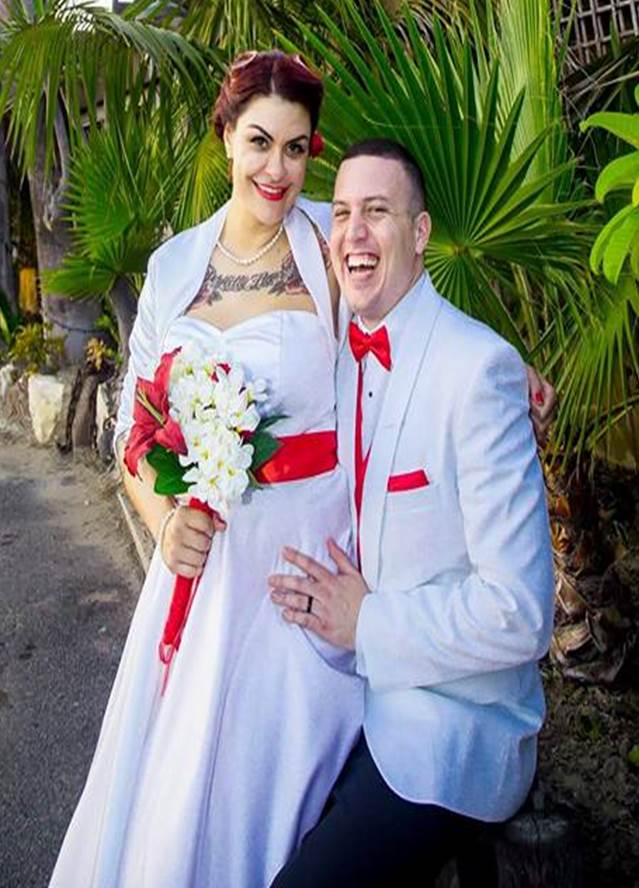 Congratulations Tommy Jones!
Tommy Jones was married to Andria on 10/11/15 in Kauai! Unfortunately, his grandmother, Carmen, passed away the day before.
Carmen Terrazas: She will be missed!

From Lucie Jones:

My Mom, Carmen Terrazas passed away peacefully in her sleep with no pain early on Friday morning October 9th. she is survived by her four children, eight grandchildren and two great-grandchildren. Carmen was born and raised in the Los Angeles area where she met and married my father Ralph at the age of 15 and remained married to him for the next 60 years. Carmen resided at the Sunrise Assisted Living Home in Yorba Linda where she lived with my father until he passed away several years ago.

Carmen, Mary, Victoria, Avila, Terrazas was the youngest of eight children and never knew her father because he died three months before she was born. Carmen was born on February 26th1935 she was 79 years old when she passed away. Now the only remaining sibling in the Avila Family is Carmen's sister Gloria.

Carmen was a caring, generous, and loving woman. She would give you the shirt off her back if you needed it. Carmen was also very protective of her children to her we could do no wrong even though we were four little rascals.

Carmen will be missed but she will live in my heart and the hearts of others forever.

Lucie Jones

Congratulations to Emma Reed

Daughter of Kim (Magrann) Reed and Chad Reed

Our grandaughter Emma just received the award for Champions of Character along with a $ 1,000 scholarship award.

O.C. Athletes, coaches selected for CIF-SS Champions for Character Awards.

Emma Reed was one of two top Orange County high school athletes awarded the CIF Southern Section to receive this year's Champions for Character.

Congratulations to Emma!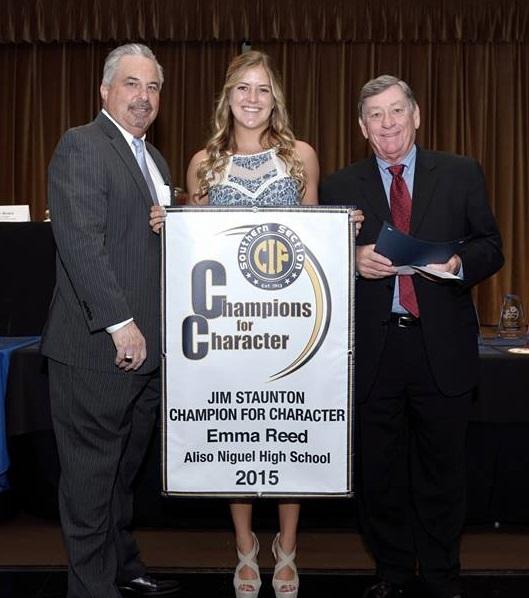 Diana Magrann has news!
Diana says this
This is from Jacques LaPointe, a delightful Arabian horse breeder in North Carolina who bought a Repligraph© (oil-on-canvas reproduction) of one of my paintings after he saw the original in Memphis. He was just building his house then and designed the foyer around the painting. When he heard Anna and Lauren loved horses (Catie wasn't born yet) he sent a model of one of his champion horses to the girls and gave me a gift subscription to two beautiful Arabian Horse magazines, and a case of wine. Jacques' daughter Lisa (pictured with him below) is an excellent rider and teaches two of Ringo Starr's relatives. Great guy, so thoughtful of him to send this. Ringo looks amazing.
Jacques says this: How crazy is this...last weekend, Ringo Starr was in Charlotte visiting with his cousin...Alison Starkey. Alison is a very good friend of my daughter, Lisa. Since both Alison's son & daughter take riding lessons here every Saturday...Ringo decided to come along to watch. When they arrived, I got a call to go to the barn, and sure enough...there he was watching Alison's daughter ride. After the kids had their riding lessons, they brought Ringo to the house so Alison could show him my 'Elvis' painting in the foyer...see below with my daughter, Lisa as we put it up on the wall. We talked a little and he said that the Beatles were all big Elvis fans...especially John. After that, they all went downtown Waxhaw for coffee...and these are a few pictures taken there that Allison sent me.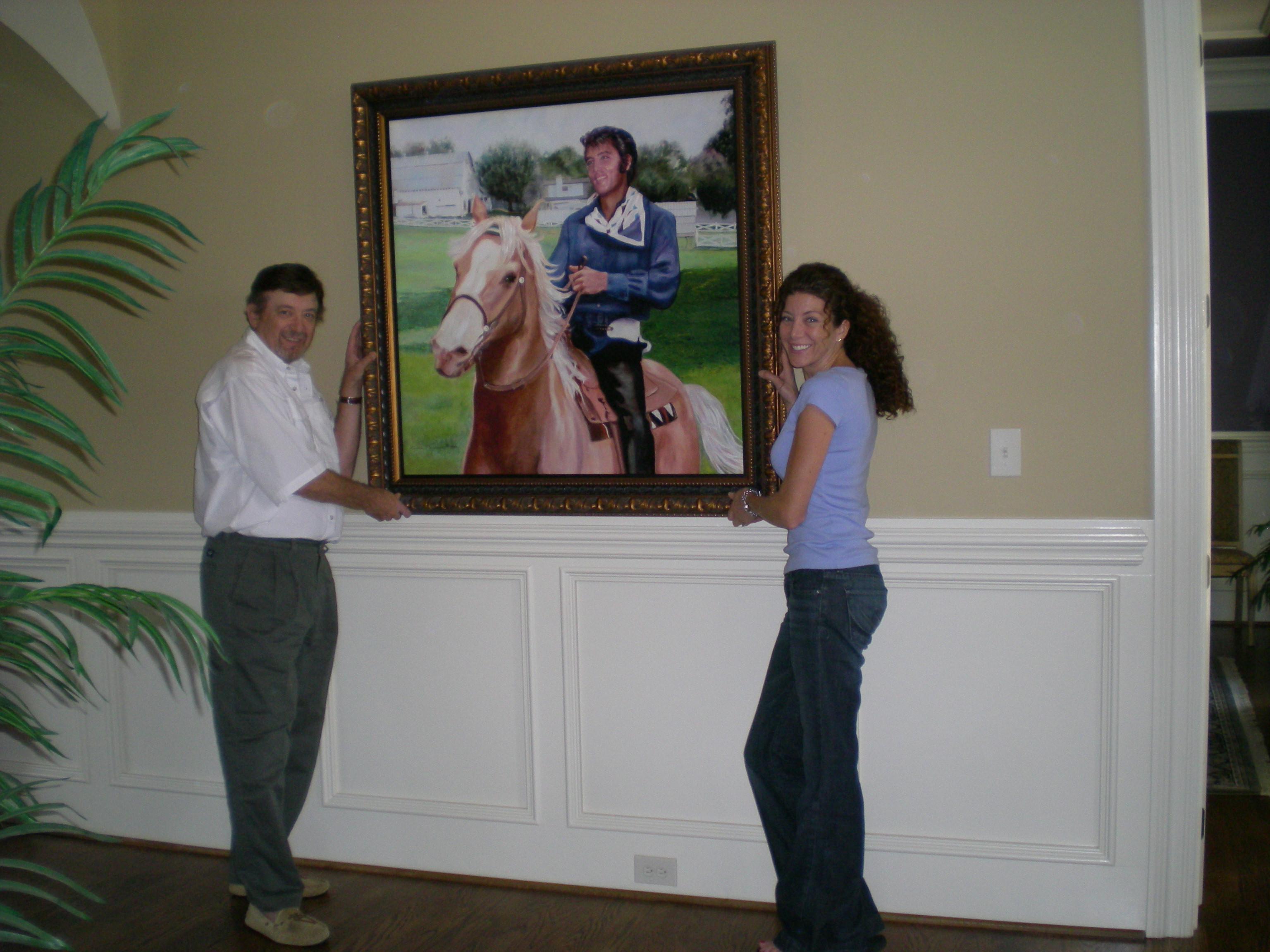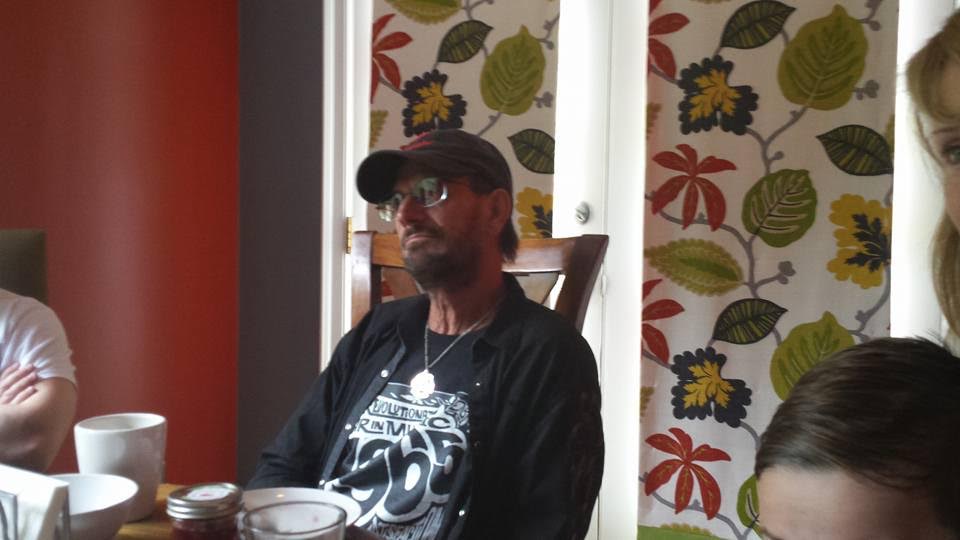 Molly Magrann in the News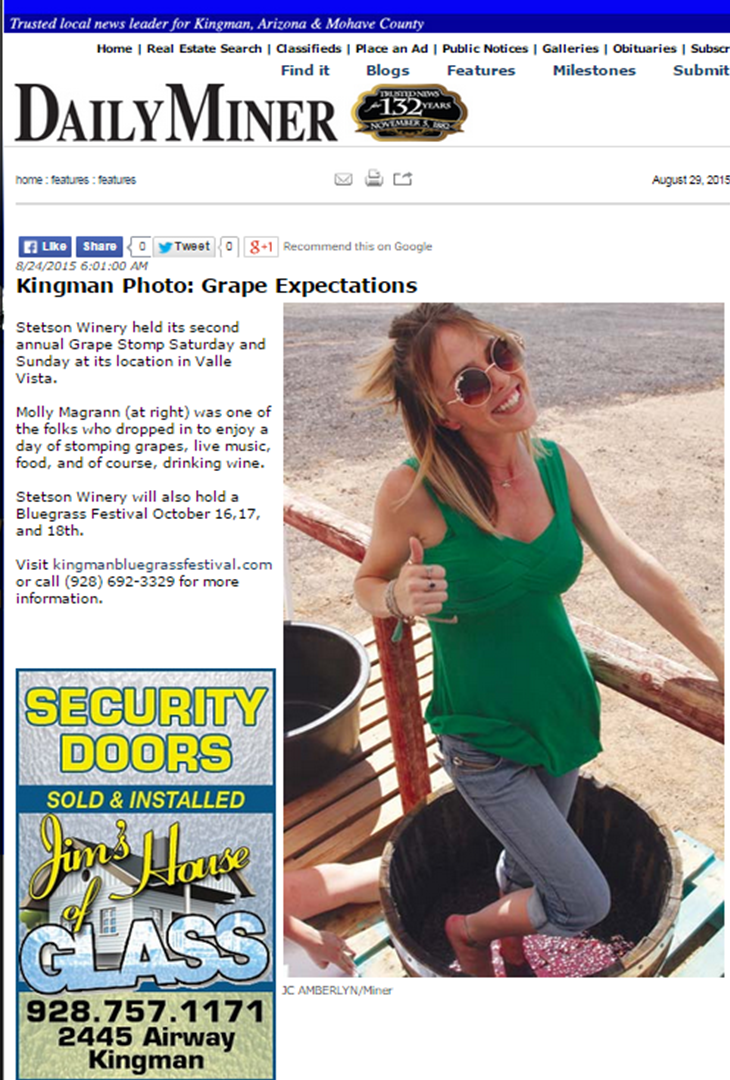 Congratulations Molly Magrann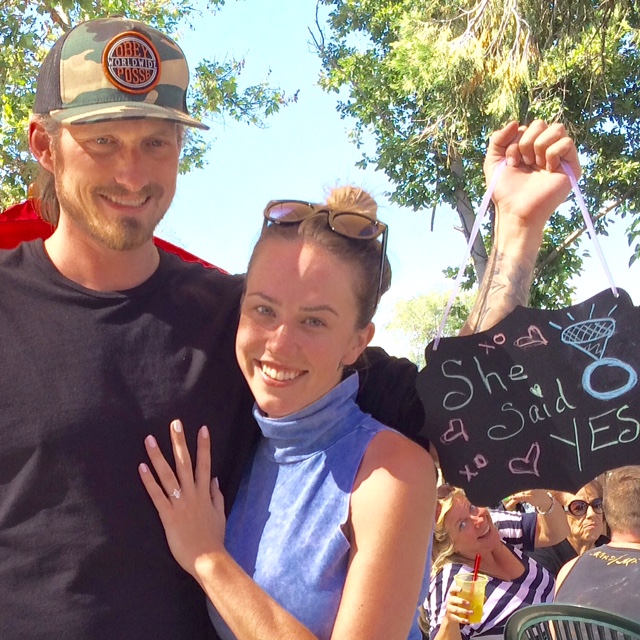 John Magrann
He will be missed!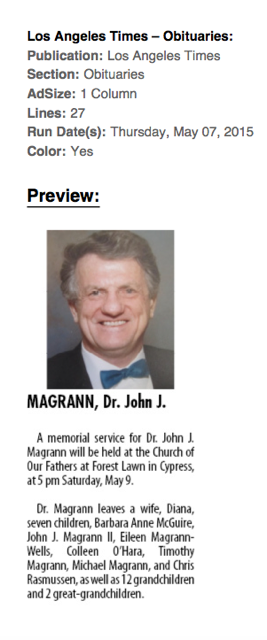 CONGRATULATIONS
EMMA REED
Emma Reed, granddaughter to Jim and Tommie Magrann and daughter to Kim and Chad Reed, just received her fourth varsity letter in surfing at Aliso Niguel High School. She was shortboard MVP, Scholar Athlete and Wolverine of the year. Emma has also received varsity letters in softball, basketball and track and field and maintains a 4.2 GPA.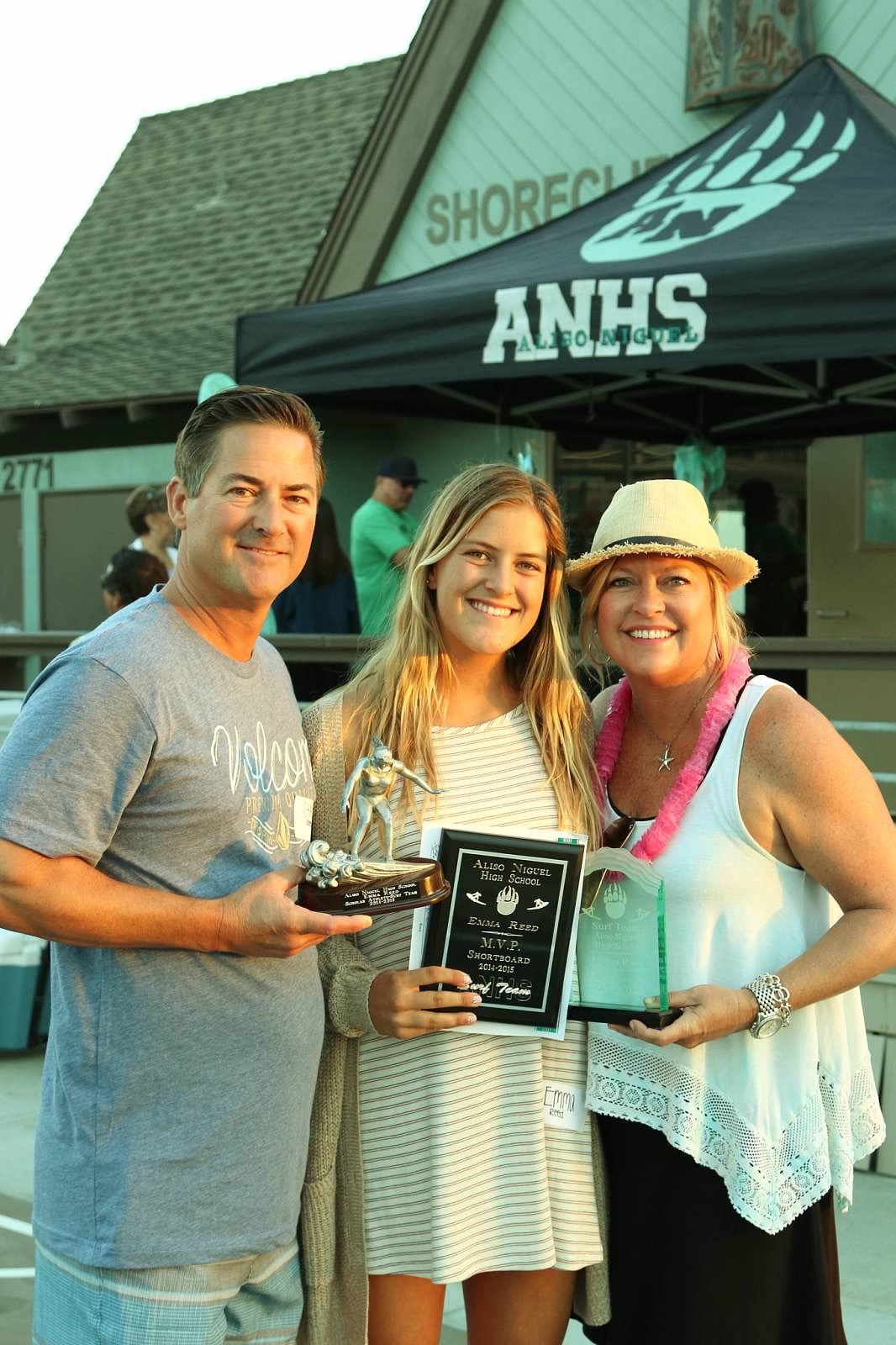 ROSE ELLEN (SCHLICHTE) STEDRON:
She will be missed!
Rose Ellen Stedron, formerly from Seal Beach, California, died, March 7, 2015, in Kingman, Arizona, where she lived with her daughter, Rhea.

She was born in Connersville, Indiana May 9, 1924, the eldest of three children of Vincent and Virginia Schlichte. She attended St Gabriel Church and school and graduated from Connersville High School. She married Kenneth Ziegler December 20, 1945 and traveled around the U.S. And Europe with him in the Navy.

She modeled in California in her early years later going into banking which she retired from while living in Seal Beach, California. She moved to Arizona to reside with her daughter in 2007.

She is survived by two daughters, Rhea Magrann and Dr Thomas J Magrann (son-in-law) of

Kingman, Arizona and Renee Periera of Cypress, California.; three

granddaughters, Royale Stiegemeier, Regan Periera, and Molly Magrann , all of

California ; one great grandson, Stellan Stiegemeier.

Funeral Mass will be celebrated at St Ireaneus in Cypress, California on March 19th at 11:00 AM. Mass of Christian Burial will be celebrated at St. Gabriel Church on April 25th with burial in the family plot in Dale Cemetery in her hometown, Connersville, Indiana.

Congratulations

Royale Magrann-Ziegler and

Sean Stiegemeier

Royale got married on her birthday, September 28, 2013, at Hatley Castle in Victoria, British Columbia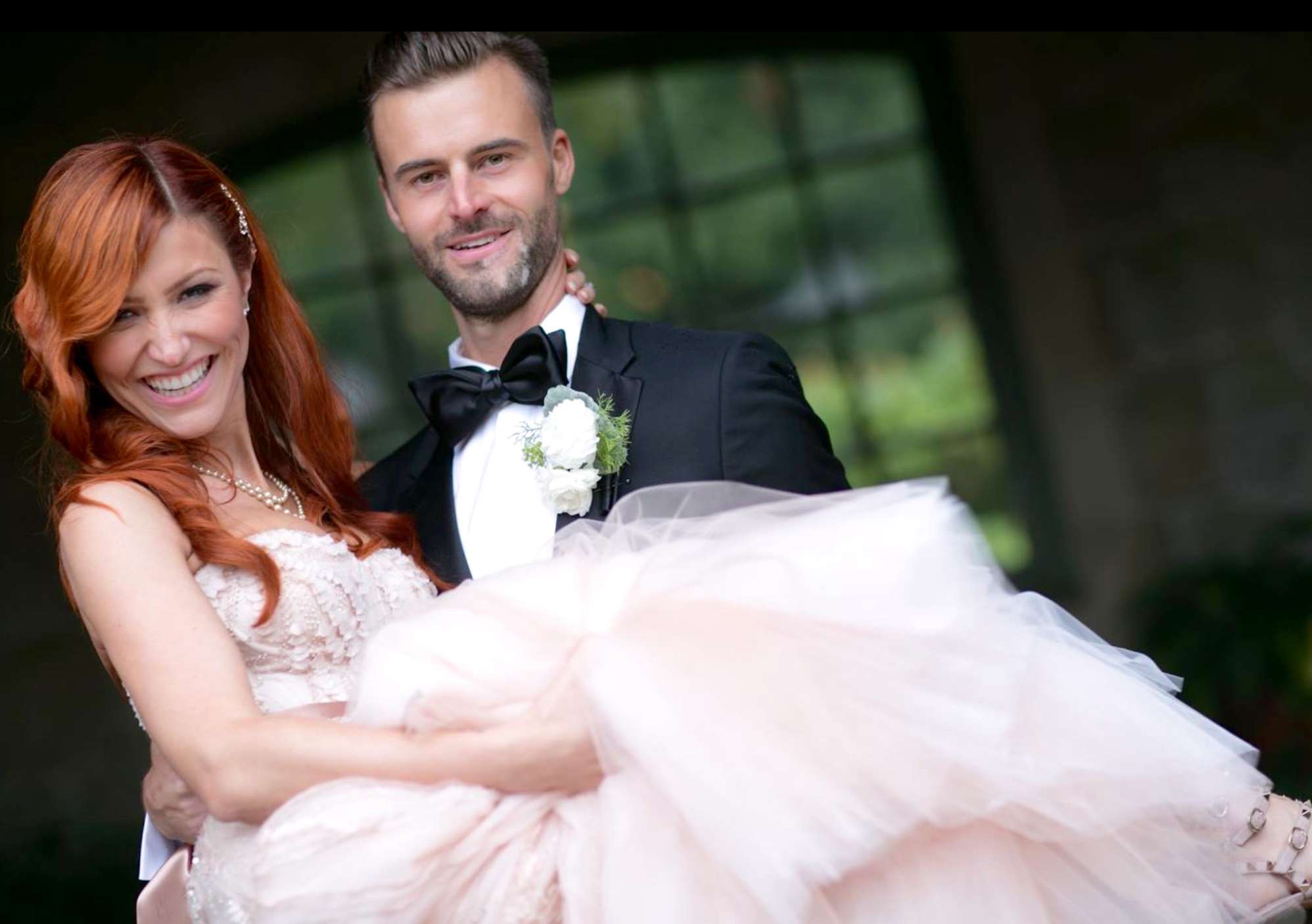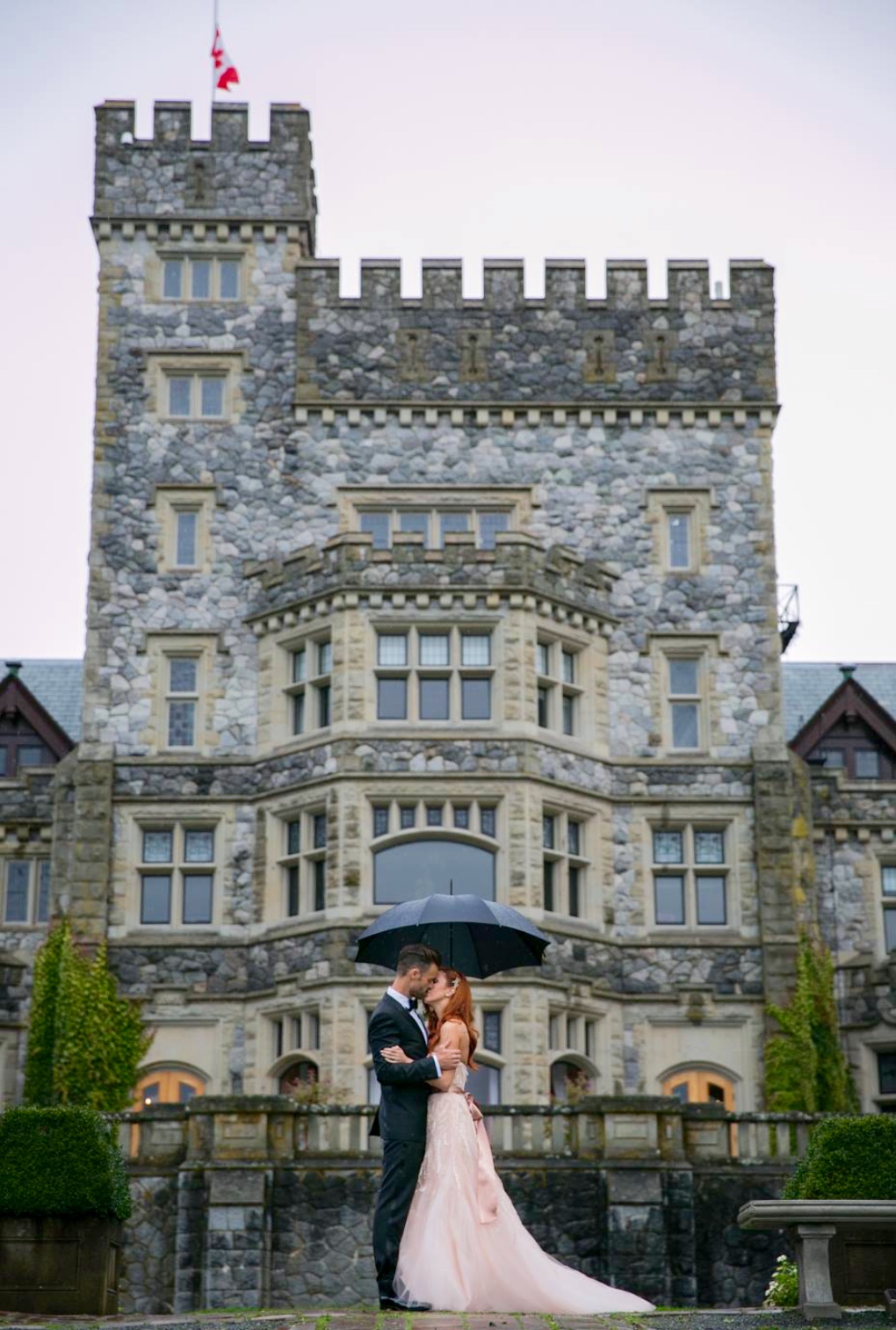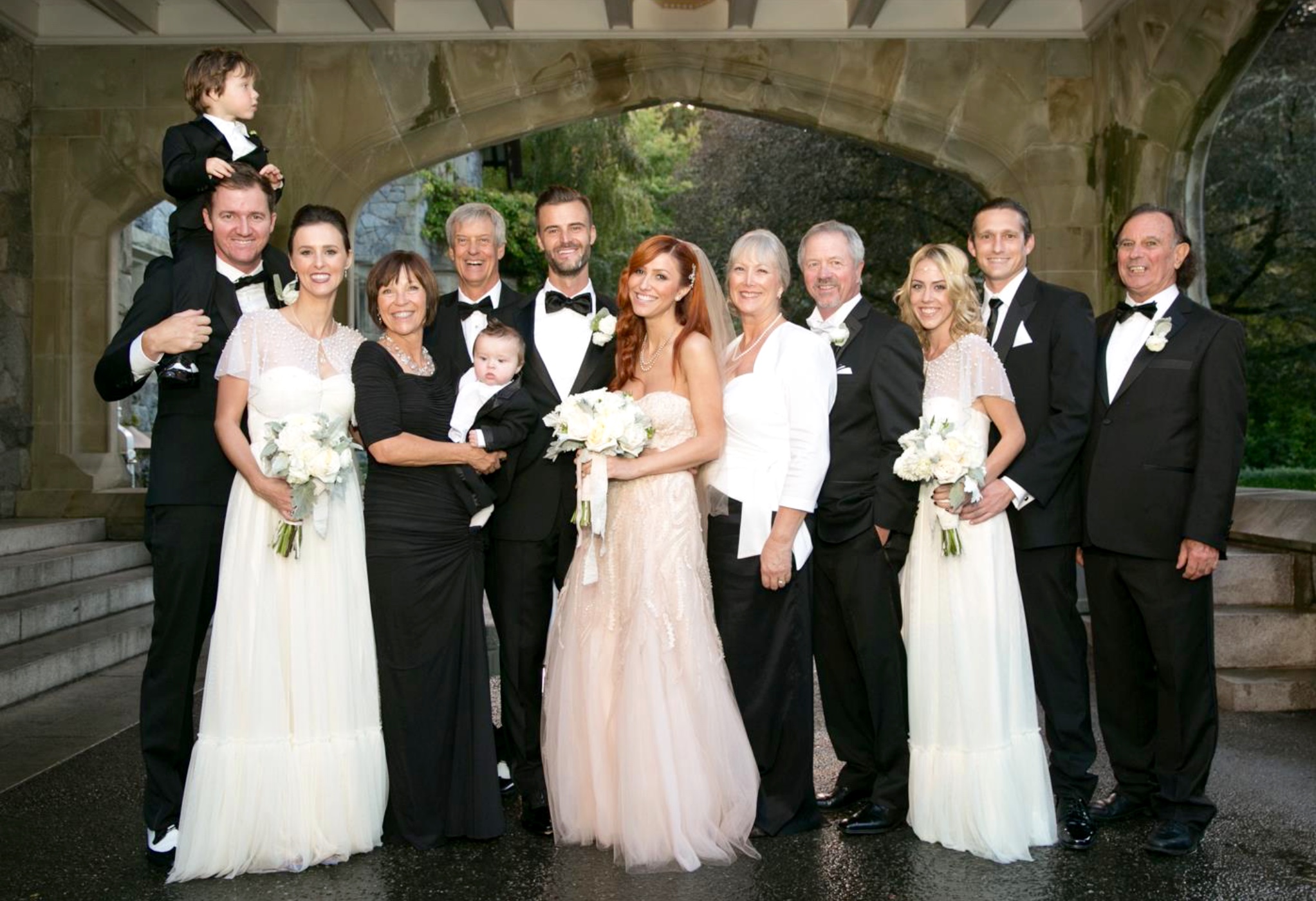 Stellen Stiegemeier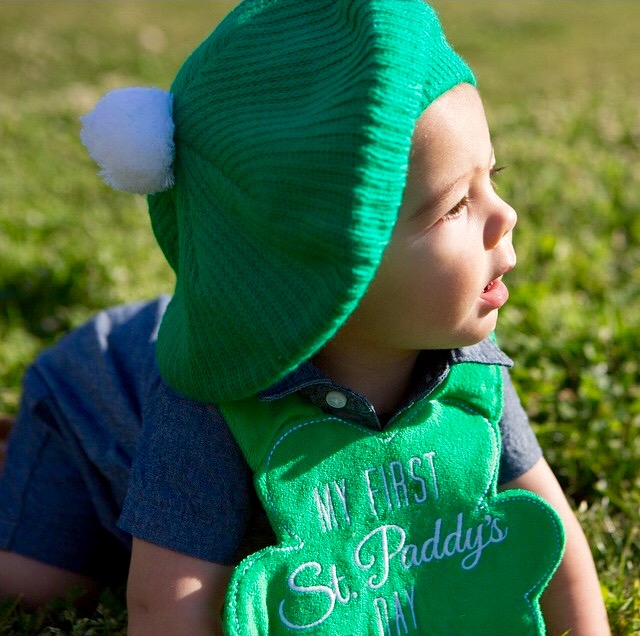 Congratulations Frank Reyes
Tracey Magrann says "My husband Frank won the Silver Snoopy Award from NASA. He is the first Metallurgy Engineer to win the award."
<![if !vml]>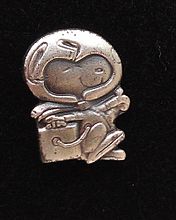 <![endif]>

"In Appreciation" "For professionalism, dedication and outstanding support that greatly enhanced space flight safety and mission success."

Charles M. Schulz, who was an avid supporter of the U.S. space program, welcomed the idea of using Snoopy for the award. Schulz and United Feature Syndicate (the distributor of the Peanuts comic strip) agreed to let NASA use "Snoopy the Astronaut" at no cost. Schulz himself drew the image the award pin was based on. He also drew promotional art for posters to promote the award program.

The award is given personally by NASA astronauts as it represents the astronauts' own recognition of excellence. It is presented at the workplace of the recipient with the recipient's coworkers present.

The award consists of a sterling silver "Silver Snoopy" lapel pin flown during a NASA mission, a commendation letter (stating the mission the Silver Snoopy pin was flown on) and a signed, framed Silver Snoopy certificate. Snoopy decals and posters are also given to the recipient.

Employees of NASA or one of its contractors can be considered for a Silver Snoopy award if they have satisfied one or more of the following criteria:<![if !supportLists]><![endif]>

<![if !supportLists]> · <![endif]> Significantly contributed beyond their normal work requirements to the development and implementation of human spaceflight programs while ensuring quality and safety.

<![if !supportLists]> · <![endif]> Accomplished single specific achievements that have had significant impact on attainment of a particular human spaceflight program goal while ensuring quality and safety.

<![if !supportLists]> · <![endif]> Contributed to a major cost saving or a series of lesser cost savings pertaining directly to human spaceflight programs.

<![if !supportLists]> · <![endif]> Has been instrumental in developing modifications to human spaceflight mission hardware, software, or materials that increase reliability, efficiency, or performance.

<![if !supportLists]> · <![endif]> Assisted in operational improvements that increase efficiency or performance.

<![if !supportLists]> · <![endif]> Has been a key player in developing a beneficial process improvement of significant magnitude.

<![if !supportLists]> · <![endif]> Contributed significantly beyond fundamental task accountabilities in support of the NASA programs.

<![if !supportLists]> · <![endif]> Sustained quality performance over an extended period of time in support of human spaceflight programs.

Since 1968, the program has awarded over fourteen-thousand people with a Silver Snoopy, as of September 2013. Silver Snoopy awards are limited to no more than 1% of eligible recipients. An individual can only receive one Silver Snoopy Award in their lifetime.

Congratulations

Katie Baker

Katie Baker, a Senior at Chiles High School in Tallahassee, has signed to play softball at Florida State University. She will be following in her mother's and aunt's footsteps, since her mom, Julie, was a standout pitcher who was inducted into the Florida State University Hall of Fame in 1994. Her Aunt Christy, who played alongside Julie for two years at FSU, was selected as an All American during her playing days at FSU.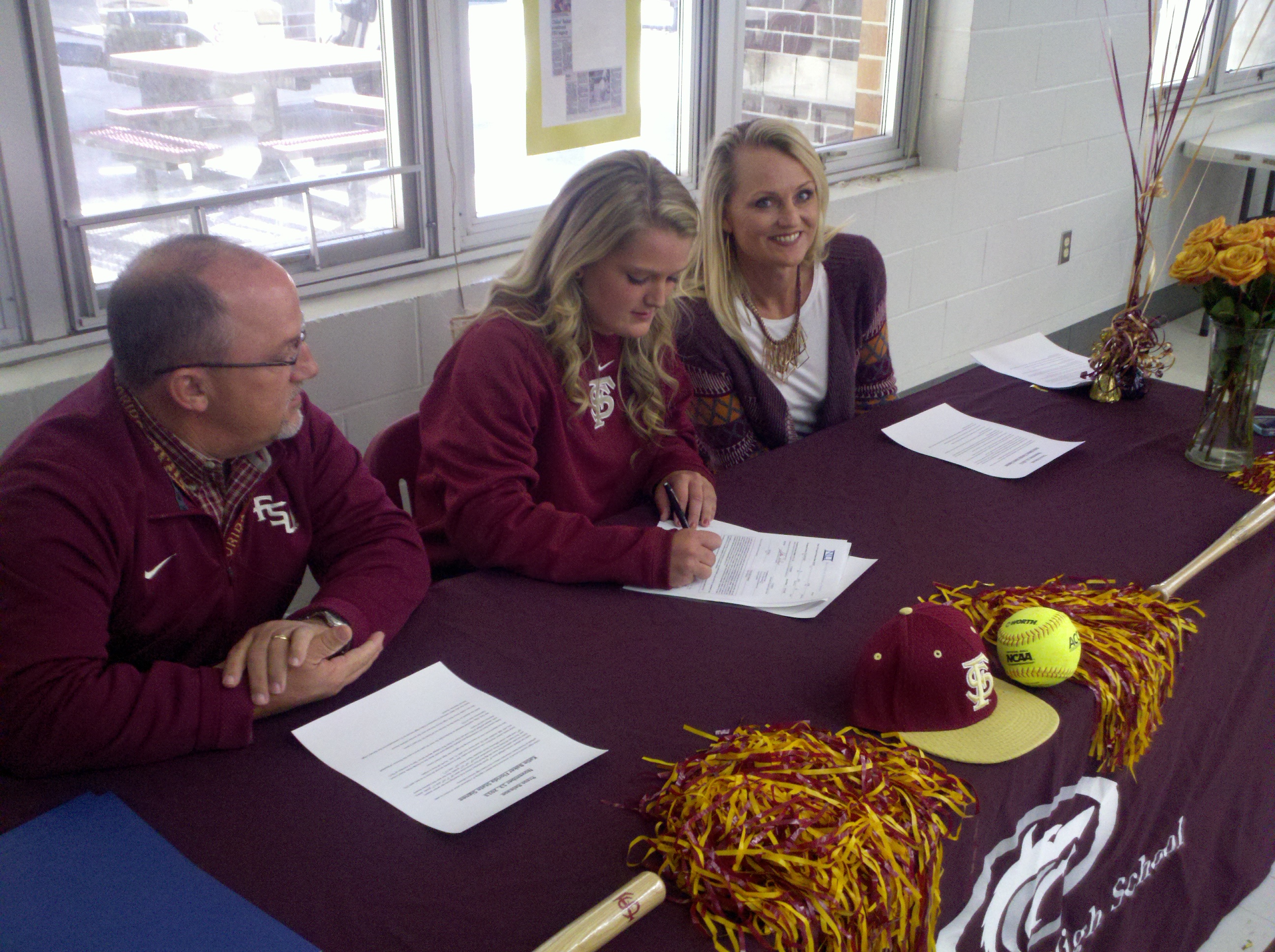 Congratulations
Shea Koepnick
Shea Koepnick, granddaughter to Jim and Tommie Magrann, signs to play softball at Arizona State University. Shea is 6'4" and has worked hard to become a valued pitcher!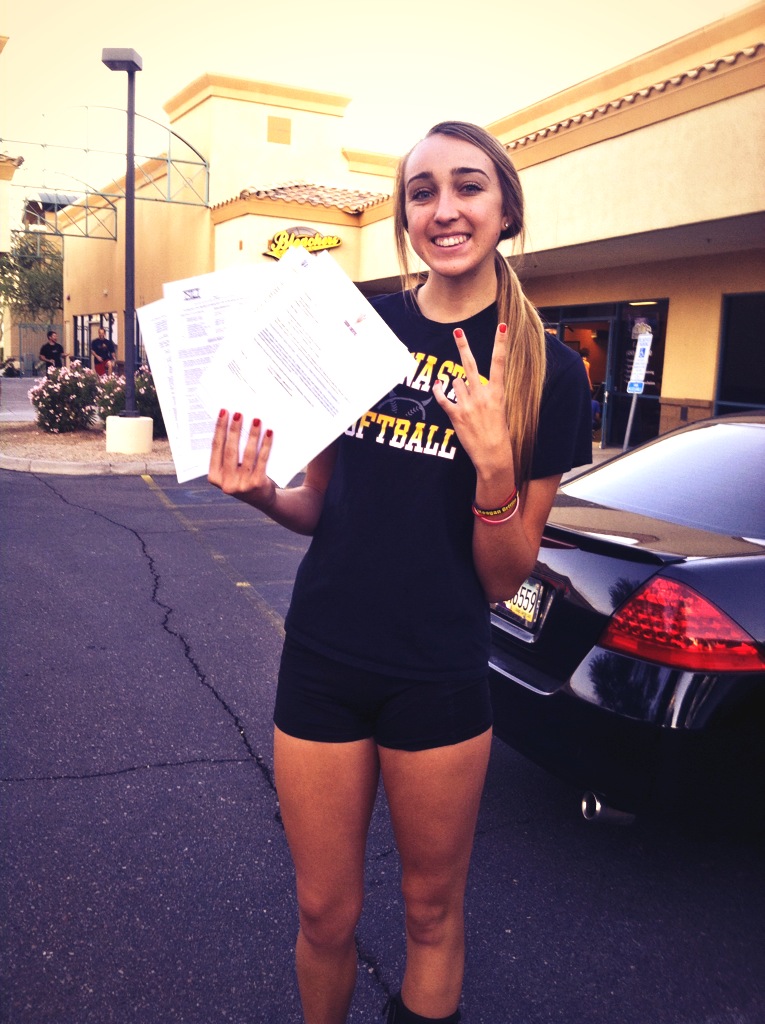 Congratulations
Tim Lanane
One of our in-law cousins is an Indiana state senator and was just named to lead its Demo caucus. Here is a cut from an online article I saw: INDIANAPOLIS -- INDIANAPOLIS (AP) Indiana Senate Democrats have elected Tim Lanane to lead their 13-member caucus in General Assembly. The caucus elected Lanane their minority leader Wednesday, one day after the election left the caucus with 13 seats, the same number it had previously. Lanane, an Anderson attorney, was served in the Senate since 1997. He succeeds Vi Simpson of Bloomington, who did not seek re-election but instead ran for lieutenant governor on John Gregg's ticket. The 37-13 Republican majority in the chamber was decided Wednesday when Republican incumbent Scott Schneider emerged victorious in his north side Indianapolis district, holding off a challenge by Democrat Tim DeLaney. Lanane said through the caucus's Twitter feed that he looked forward to building consensuses with Republicans on issues. You go Tim!!!!
Congratulations Katie Baker
Something to brag about! Katie Baker, granddaughter to Jim & Tommie Magrann was selected to the "All Big Bend Team" as a freshman for Chiles High School. Also pictured with her mom, Julie Larsen Baker who was inducted into the Florida State Hall of Fame. Story is here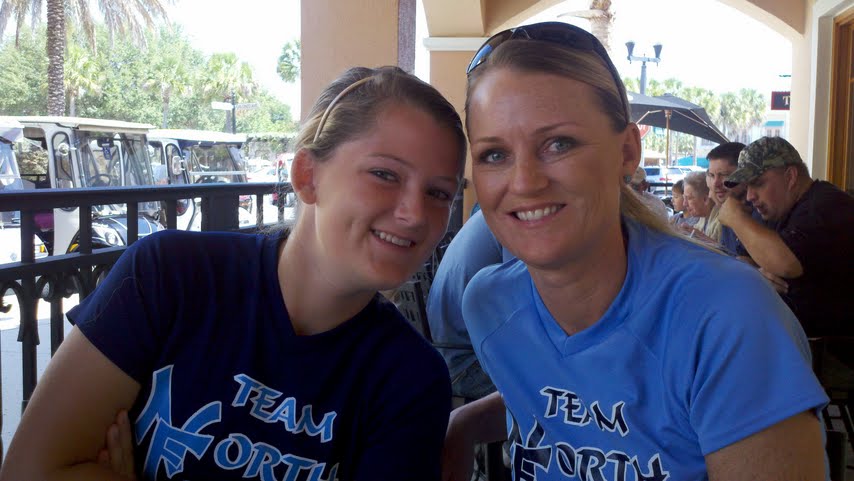 Congratulations Maren McBride
Maren McBride ( Denny and Pats daughter) married
Ryan Bradley on Saturday June 11 in Philly.
Congratulations Bryan and April Egland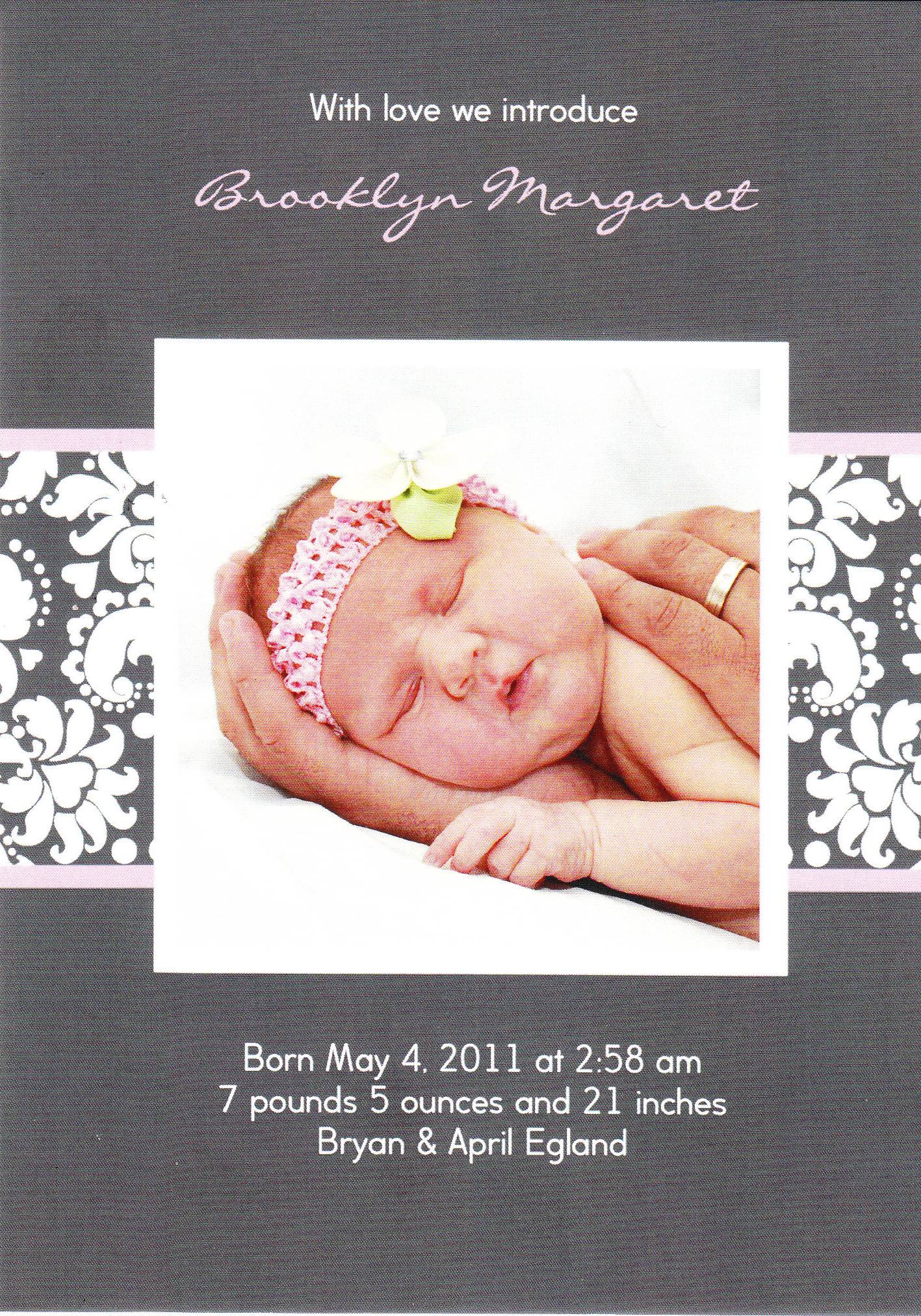 Congratulations Christopher Kintz and Tasanne
James Christopher Darnell Kintz was born on 3-24-11 @ 4pm weighing 4 lbs 12 oz and 17.75".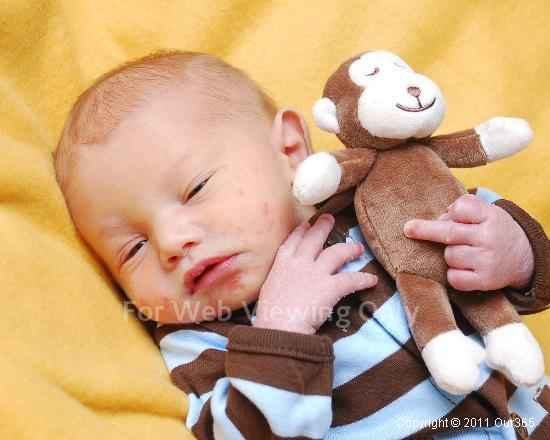 Congratulations Jeff Kintz
This is Jeff and his new little brother Jeremiah. They were paired through the local chapter of Big Brothers Big Sisters of America. So far, they have gone to the movies, bowling, skating, and to the Ringling Bros and Barnum and Bailey circus!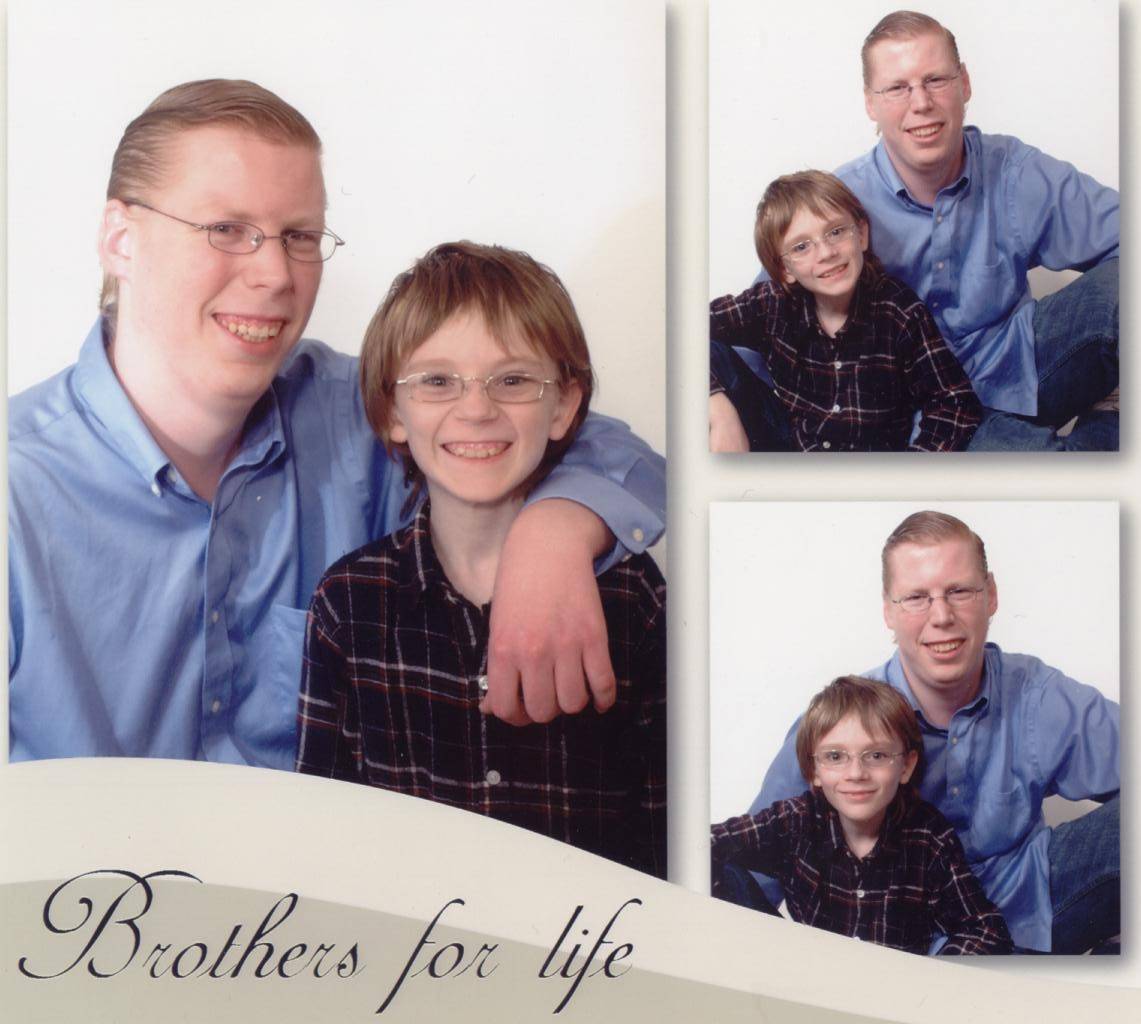 Congratulations Sky Wood
Sky had a dance competition Feb 20. He dances in a group, as well as performs as a soloist. Sky received high 1st place for his group routine, high 1st place for his solo, and won the overall "best dancer" award. He received a score of 414 out of 420, which made him the high point winner as well. Sky competes in hip hop, this last routine had about 300 competitors. We were also just notified that Sky has been invited to the "National Dance Competition" this summer in Vegas. We still have 5 more competitions before Nationals, but we are very excited for Sky.
Congratulations Tori Corder
Tori is on the Principal's Honor Roll and "Straight A" mental Pentathlon team!!!